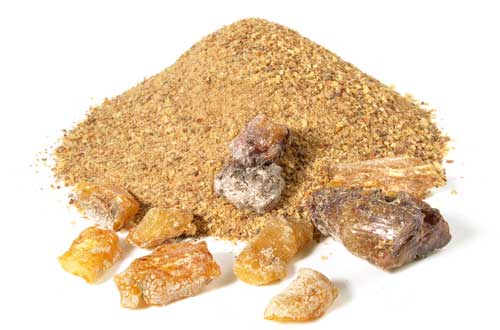 Boswellia serrata Dry Extract
NOMENCLATURE:
Botanical name / Scientific Name: Boswellia serrata
Common Name: Salai guggul
STANDARDIZED GRADES:
Bosewellic Acid 5%-75% By Titration
Bosewellic Acid 40% By HPLC
3 Acetyl 11 Keto Beta Boswellic Acid 10%,30%,50% HPLC
ANALYTICAL METHOD:
a) Titration
b) High performance liquid chromatography (HPLC)
Boswellia serrata (frankincense) is a moderate-to-large branching tree (growing to a height of 12 feet) found in India, Northern Africa, and the Middle East. Strips of Boswellia bark are peeled away, yielding a gummy oleo-resin. Extracts of this gummy exudate have been traditionally used in the Ayurvedic system of medicine as an antiarthritic, astringent, stimulant, expectorant, and antiseptic.
Function:
It is used cosmetically as a facial toner and to smooth wrinkles. In Ayurvedic medicine, boswellia is used to destroy toxins, as a rejuvenative, to cleanse the 'orifices of the head', to redirect the flow of vata downwards, to clear adhesions from the body.
Boswellia is also used in the treatment of fibroids, cysts, painful periods with clots and pain caused by congestion.
Boswellia serrata also acts as an alternative to NSAIDs (Nonsteroidal anti-inflammatory drugs)